The Olympics are broken down into two separate weeks for me. Week 1 is owned by swimming and gymnastics, and week 2 is all about team sports and track events. My overall medals are based on which athletes dominated their weeks and caught my attention. This is incredibly biased because it is affected by what I actually watched during the Olympics (otherwise known as you can expect mostly USA athletes in this column.) . So, without further ado we go to the medal ceremony.
WEEK 1

Honorable Mention: Ryan Lochte, Ye Shiwen, and Aly Raisman
Aly wonders if McKayla is impressed with how gold tastes?
Worth mentioning are Ryan Lochte, who for one night was anointed as the greatest swimmer on earth, and then came crashing back down to
just
one of the greatest. Seeing the fall in popularity of Lochte was stunning. After that 400 IM on the first night of the Olympics it seemed Lochte was poised to go on an epic run, but when he screwed up the Lezak relay repeat and failed to dominate all of his events, he quickly fell out of the spotlight. He still managed to get two golds and five total medals so in my opinion it was a pretty damn good olympics. Honorary mention also goes to Ye Shiwen or as she's more commonly known in 'Merica "that 16 year old Chinese who's been doping." I have no idea whether she actually was on steroids, but let's just say if I really thought she could best Michael Phelps last 100 meters in the 400 IM she would probably be winning a medal in this column. Either way she had a great performance, and all the debate surrounding her made the Olympics all the more exciting. Finally, honorable mention goes to Aly Raisman, who helped the modern day fab five win the all-around team gold, and individually took home a bronze on the balance beam and gold on the floor routine. Of the fab five Raisman had the best performance in the individual events, and being the captain of the team was also very impressive (even if McKayla is not impressed).
BRONZE MEDAL: Gabby Douglas
Anyone else get dizzy looking at this picture?
Douglas was the star of the fab five's team all-around finals, and then the next day took home the individual all-around, which is the biggest honor in Olympic gymnastics. Gabby did falter after that though failing to place on both the uneven bars and the balance beam. Though Gabby underwhelmed on the individual events she still was the star of the fab five, and a transcendent gymnast being black in a mostly white sport. At 4-11 with a big smile Gabby seemed incredibly happy to be at the olympics, but still poised and confident in her abilities. Watching all the gymnasts is always incredible, but Gabby was the most impressive of them all and truly a joy to watch.
SILVER MEDAL: Missy Franklin
I wonder if she "Missy" America in London?
At only seventeen years old Franklin put together an incredible Olympics. In seven events she placed fifth 100m freestyle, fourth in the 200m freestyle, third in the 4x100 team freestyle relay, first in the 100m backstroke, first and olympic record in the 4x200 team freestyle relay, first and world record in the 200m backstroke, and first with a world record in the 4x100 team medley relay. Overall she had five medals, four golds, one olympic record, and two world records. It was a epic performance by Franklin, and she went about it all with a fantastic attitude. With her giant feet and 6-1 body Franklin seems to be the female version of star swimmer Michael Phelps. The American media has fallen in love with her because of her homegrown American way of life, and are impressed that she has turned down prize money and sponsorships in order to maintain collegiate eligibility. What I'm happy about is that instead of competing for the Canadian squad (she has dual-citizenship) she chose to represent the US and bring us home some more gold.
GOLD MEDAL: Michael Phelps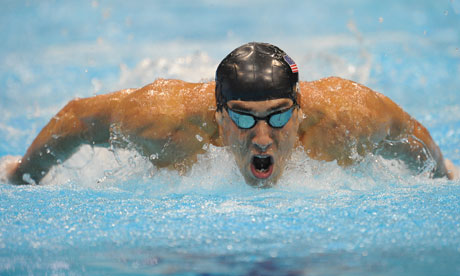 I can never recognize swimmers while they're swimming
When Michael Phelps barely qualified for the 400m IM and then placed 4th in the individual relay people were shocked. In his next two events Phelps had two silvers, one of which came in the revenge of the French in the 4x100m freestyle relay. After earning the two silvers, people decided Phelps was still very good, he just wasn't what he used to be. At this point I thought that Michael Phelps' 2012 Olympics would be similar to Jordan's Washington Wizards comeback. It shows us that he's still good, and can compete at a high level despite taking so much time off. However it disappoints us because it shows that Phelps/Jordan is nothing but a human. I was wrong. In his next four events, 4x200m freestyle relay, 200m individual medley, 100m butterfly, 4x100 medley relay Phelps ran the table. He ended the 2012 Olympics with six medals, and four golds, but also 22 Olympic career medals and 18 gold medals. Simply put, Phelps cemented his status as the greatest swimmer of all time. Instead of reminding me of the Jordan Wizards comeback, it reminded me of Jordan's comeback from his "baseball career." Jordan like Phelps started out slow with a loss to the Orlando Magic in the 1995 playoffs, but picked it up afterwards to prove that he was the greatest of all time at his respective sport.
WEEK 2

Honorable Mention: Misty May-Treanor/Kerri Walsh, Yohan Blake, and Mo Farah/Jessica Ennis
PEEK-A-BOO!!!!!!!!!!
The dynamic duo of Misty May-Treanor and Kerri Walsh went undefeated in route to their third straight 2-on-2 Olympic beach volleyball gold. In the finals Treanor and Walsh played a great match against fellow Americans April Ross and Jennifer Kessy and earned gold in a dominating performance. Treanor and Walsh's ability to perform in the clutch with incredible consistency separated them from the field in what was probably their last Olympics. Yohan Blake helped the Jamaicans to a gold in their world record setting 4x100m relay, and got individual silver's in both the 100m and 200m. If there was no Usain Bolt in the world, Blake would have swept the board in sprinting track events while setting some records (remember there is no Bolt in this world). It is sad for Blake though because he will forever be in the shadow of the 6-4 Bolt. Mo Farah and Jessica Ennis were the stars for the host country in Britain. Jess as the Brits call her won gold in the 800m Heptathlon while becoming adored by her English fans, and Mo Farah won golds in both the 5,000m and 10,000m long distance runs.
BRONZE MEDAL: Allyson Felix
Just like a waving flag, and then it goes, and then it goes back
In four events Felix won three golds, and helped set a world record. In the 200m and the 4x400m relay Felix won gold for team USA. The Women's track team also set a world record in the 4x100m relay with help from Felix and fellow track star Carmelita Jeter. The 4x100m relay was an incredible performance by the US women as they shattered the Germans world record from 1985 by 0.55 seconds. It may not seem like that much, but in track and field more than half a second is an eternity. After getting silver medals in her last Olympics, Felix was probably overjoyed to come up with "not 1...not 2...(how did I know I would talk about Lebron at some point this article, oh yeah, because I write it) but 3 gold medals.
SILVER MEDAL: USA Women's Soccer Team
It looks like she forgot the flag she was supposed to be holding
The US women's soccer team got revenge against a Japan team that had beaten them in the World Cup final by defeating them to earn a gold in the 2012 Olympics. With Hope Solo, Megan Rapinoe, and the fiery Abby Wambach, the US team fought for the gold. It was not easy, and the 4-3 123rd minute victory over Canada after two overtimes by Alex Morgan was one of the greatest moments of the Olympics. Abby Wambach chewed out the referee in order to give them extra time when Morgan scored the amazing goal to win it. In the finals Carli Lloyd scored two goals in route to the 2-1 victory over Japan. It was a difficult run for the team, but with Wambach's leadership they never stopped fighting and came home with a well deserved gold.
GOLD MEDAL: Usain Bolt
He's pointing at his home country of Mars
The country of Jamaica had four gold medals. The legend of Usain Bolt had three. In Bolt's last six Olympic events he has won six golds, and set two world records and an olympic record. There were some questions coming in to this Olympics after Yohan Blake had beat Bolt in Jamaican qualifiers, but a doubter cannot be heard after what he did this Olympics. Bolt proved once again that he is the greatest and the fastest sprinter of all time, not to mention one of the greatest showmen among athletes. With all his pre-race dances and post-race poses Bolt ran like lightning to a 100m, 200m, and 4x100m gold victory. In the 100m Bolt was in the middle of the pack at the midway point in the race, but switched into another gear and zoomed to the finish and a Olympic record (yes he does own the World record). Well actually he slowed up just a bit at the finish by spreading his arms wide and coming as close to flying as any human has ever done. In the 200m Bolt slowed down at the finish to turn his head and put a finger to his lips to shush the crowd. In the 4x100m Bolt's end of race display was post-poned till next time as he ran hard to give the Jamaicans a new world record. Like Phelps Bolt used the 2012 London Olympics to affirm his status as the greatest ever at what he does. Phelps is the greatest swimmer ever, and Bolt is the greatest sprinter ever.
Please follow us on Twitter @11on11sports