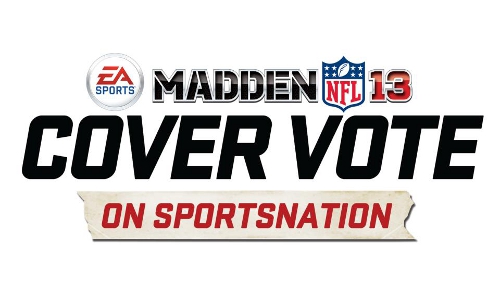 Last year, EA Sports made one of the best decisions they've made in recent memory by allowing fans to vote for their cover athlete. It's one of those things that always made sense but wasn't done for some unknown reason, but now we have it. It could be argued that year one of this new system was actually a disaster, considering that Peyton Hillis was voted in over Michael Vick and Aaron Rodgers, but I enjoyed it. Now we can look back and say "Oh yeah. Remember when Peyton Hillis had that monster year? I wonder what he's doing now."
Previous Winners
2001 - Eddie George, RB, Titans
2002 - Daunte Culpepper, QB, Vikings
2003 - Marshall Faulk, RB, Rams
2004 - Michael Vick, QB, Falcons
2005 - Ray Lewis, MLB, Ravens
2006 - Donovan McNabb, QB, Eagles
2007 - Shaun Alexander, RB, Seahawks
2008 - Vince Young, QB, Titans
2009 - Brett Favre, QB, Packers (Even though he wasn't on the Packers - which is why this was really the best curse ever. Favre retires, EA sees their chance to break the curse, but then he comes back, is having a great year with the Jets, and then gets hurt and their season is ruined.)
2010 - Troy Polamalu, S, Steelers/Larry Fitzgerald, WR, Cardinals
2011 - Drew Brees, QB, Saints
2012 - Peyton Hillis, RB, Browns
2013 Sweet 16
1. Cam Newton v.s. 8. Antonio Gates - This one's pretty easy. Cam Newton exploded onto the scene last year and Antonio Gates is old news.
My Vote - Cam Newton
Prediction - Cam Newton
4. Larry Fitzgerald v.s. 5. LeSean McCoy - My Eagles fandom aside, this one should be pretty easy also. McCoy became a star last year, whereas Fitzgerald has been a star for a while and has already been on the cover.
My Vote - LeSean McCoy
Prediction - LeSean McCoy
3. Maurice Jones-Drew v.s. 11. Patrick Willis - For me, this one's easy to vote on but tough to predict. MJD, through no fault of his own, is the most boring star in the NFL. He doesn't do anything jaw-droppingly well. He's not the fastest or strongest, and doesn't have the best juke moves. He's just good at everything. He's also on the most boring team in the NFL. Willis, on the other hand, is just becoming a big-time household name as the 49ers have finally become relevant. Plus there's only been one linebacker on the cover as opposed to four running backs.
My Vote - Patrick Willis
Prediction - Patrick Willis
2. Victor Cruz v.s. 7. Darrelle Revis - I'm torn on this one. Cornerback is my favorite position, so I love the idea of a cover man becoming a cover man, but I also love Cruz and he's obviously much fresher. We've known about Revis island for a while, and the salsa dancer is brand new.
My Vote - Darrelle Revis
Prediction - Victor Cruz
1. Aaron Rodgers v.s. 8. Marshawn Lynch - Lynch did wonders for his popularity with the whole "beast mode" run, and he followed it up with a great year last year. Rodgers was phenomenal last year, but he was even better in 2010 and was a shoe-in for the cover, but somehow lost to Peyton Hillis. Why should he advance this year, against a more popular player than Hillis when Rodgers is one year older and staler?
My Vote - Aaron Rodgers
Prediction - Marshawn Lynch
4. Drew Brees v.s. 5. Ray Rice - Both guys had great years last season, but Brees has already been on the cover.
My Vote - Ray Rice
Prediction - Ray Rice
3. Arian Foster v.s. 6. Calvin Johnson - I think Megatron has a serious chance to make a run at the cover. Foster is very good, but Calvin is loved by Madden players for his freakish attributes, which he was finally able to capitalize on with a healthy Matthew Stafford.
My Vote - Calvin Johnson
Prediction - Calvin Johnson
2. Rob Gronkowski v.s. 7. Jared Allen - Two meathead fan favorites going at it. Allen's much older news though, so this one should be a landslide.
My Vote - Rob Gronkowski
Prediction - Rob Gronkowski
Tune in next week to see the results. Or disregard this article entirely and continue on with your day.