Last season we saw the most parity in the NFL than we've seen since the quarterbacks took over the league. As the rules change and the importance of the signal caller continues to grow, teams will continue to search for their guy until one day we have a dream league with 32 legit starting quarterbacks all capable of winning the title. As I compiled this list I concluded that there are currently 16 high caliber starters in the NFL right now, so we're half way there, and we are most likely adding at least two more of those guys this April.
To me, the top six are obvious, and the rest is based off your preference. I value winning and playoff performance more than anything, with statistics and physical capabilities in a close second. I also place a bit of emphasis on potential, because even though this is a list of the best QBs right now, I'd expect a younger guy with potential, say Josh Freeman, to bounce back from a poor season better than a veteran would.
Oh and before we get started, who would've guessed three years ago that both Donovan McNabb and Vince Young would be off this thing entirely?
32 Best Quarterbacks in the NFL
32. Blaine Gabbert, Jaguars/Colt McCoy, Browns - I put them both here because I honestly couldn't decide who was worse. I've seen a decent amount of both of these guys at the pro level, and can safely say that I haven't seen an impressive play from either of them. I guess Gabbert would get the nod just based off potential as he's only played one season, but he was really, really bad last year. I don't see either of these guys going anywhere. Oh and yes, the fact that they're both here does mean that two signal-callers from the same team are on this list. I'll give you one guess.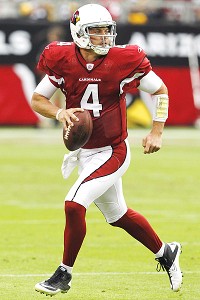 31. Kevin Kolb, Cardinals- I feel bad for the corn man. McNabb is traded, he's handed the keys to the franchise, he gets a concussion in game one, the Vick thing happens, he's traded and handed the keys to another franchise, plays below par, gets hurt again, and barely survives the year as the starter. This year is Kolb's last chance. It's almost like Stafford last year except we haven't even seen flashes of brilliance from Kolb. We've just heard he has all this potential. I think he can be a starting QB in today's NFL (he'd be a backup in the future perfect league), and having Larry Fitzgerald will certainly help, but he has to prove it this year.
30. Christian Ponder, Vikings - Was he worth the twelfth pick in the draft? No. Does he give this team hope? Sort of. Can he develop into a solid starter? Absolutely. I've seen much more from Ponder than these last three guys. He can make the throws, he's athletic, and he seems to play well late in games. He's not special, but he's something.
29. Matt Moore, Dolphins - He's one of those guys that you never want as your teams starter because he's just good enough to get you out of the lottery. Matt Moore is a gamer. He doesn't make it look pretty, but he can make plays when it counts and can win games with a good defense behind him.
28. Ryan Fitzpatrick, Bills - He's just like Moore except a little more impressive. The Jeremy Lin of the NFL is a feel good story, but the bad news for Bills fans is that I actually think he'll have a good year this year. They've revamped their defense, have Stevie Johnson back and finally seem to have woken up C.J. Spiller. That means no Matt Barkley for the Bills and a mid-first round pick.
27. Carson Palmer, Raiders - Palmer actually looked like his old self in spots last year and helped a sneaky competitive Oakland team finish 8-8. I'm actually fine with Palmer if I'm a Raiders fan, because either he does the same and Oakland is a borderline playoff team, or his shoulder fails him again and you're in the lottery.
26. Matt Flynn, Seahawks - The Seahawks have fancy new jerseys and a fancy new franchise quarterback. Let's just hope this doesn't work out like it did for the other NFC West team that tried to work with an unproven QB (See Kolb, Kevin). Flynn did benefit from the Packers crazy good line and receivers during his run last year, but he was throwing bullets and making plays with his feet, and he's going to a coach that knows how to develop quarterbacks.
25. Sam Bradford, Rams - This ranking is obviously based off potential considering how abysmal Bradford was last year, but I still believe he can be a very good player. He's as accurate as anyone, and just needs a line and some playmakers to stretch the field. Here's to hoping we see Justin Blackmon become a Ram in April.
24. Matt Cassel, Chiefs - Matt Cassel is the last quarterback of anyone on this list that I'd want as my starter. Here's the prime example of the guy that won't take you anywhere, but who also won't let you get the next big thing at QB.
23. Mark Sanchez, Jets - Sanchez has been terrible on a team with a great line, great receivers, and a great running game. It's pathetic. However, I do give him credit for his playoff performances. I believe that in the right situation (say San Fransisco) he could be a Super Bowl winning quarterback with his big game guts. However, unfortunately for him I don't believe he'll even finish the season as a starter because of...
22. Tim Tebow, Jets - Tim Tebow is the least skilled quarterback of anyone on this list. It doesn't matter to me. I'll take elite intangibles and mediocre skills over elite skills and mediocre intangibles any day of the week. Tim Tebow can win a Super Bowl in the NFL, he just can't do it the way other elite quarterbacks can. He needs a great o-line, a great running game, great receivers, and a top 5 defense. Basically, he needs his typical roster from Florida but at the pro level. That sounds pretty obvious, as we would assume that most capable NFL quarterbacks (exhibit A, Alex Smith) should be able to win with a team like that. I understand that, but Tebow does things for your team that others can't do. He gets people to play harder, he doesn't turn the ball over, he wears people down with his running, and he's one of the most clutch players in the game because he wants it more than anyone else on the field.
21. Robert Griffin III, Redskins - If the season started today, I'd want Griffin over any of those guys behind him. He can make every throw in the book, is impressively accurate (especially on those deep balls), and has every intangible you look for as a person. He's going to be the biggest star in the history of Washington sports.
20. Josh Freeman, Buccaneers - This year will be huge for Freeman. He just got Vincent Jackson to compliment Mike Williams, and might get Trent Richardson to compliment Blount in the draft. I like Freeman in big games, and still think he could become the player we thought he would after his great rookie season. He just can't afford another step backward.
19. Matt Hasselbeck, Titans - I love what the Titans are doing. Hasselbeck is as solid of a veteran starter as you could find, and he'll get maybe one or two more seasons to chase a ring before they hand the franchise to Jake Locker, who has all the talent and intangibles you look for but who needs time to learn how to pass from the pocket.
18. Alex Smith, 49ers - This is pretty low for a guy who went to the NFC Championship game and barely lost, but I just feel about him the same way I feel about Mark Sanchez. I don't think he wins games if he's not surrounded by the right people, and I can't consider a guy like that elite, or even in the top half of the league. I'm very interested to see if Smith can do it again this year.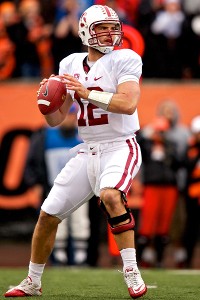 17. Andrew Luck, Colts - As a DC native, I used to joke with my friends that Luck could've been the starting quarterback of the Redskins three years ago. But I honestly don't believe I'm overrating him at all by putting him here. He's the best quarterback prospect I've ever seen, and he's the most NFL ready. People are calling for him to be a bust and are trying to make the case for RG3 over him only because we've known about him for so long and he's not that sexy. Sure, I don't know how he or any prospect will translate to the pro game. But I do know that he's as accurate as any quarterback I've ever seen, has as strong an arm as almost anyone (if you still don't believe this, watch him throw a 60 yard bomb from his knees as a sophomore or watch him throw it 70 yards into the wind on his pro day), is a tough, hard nosed football player, is a big time leader, and can already command an offense like a veteran.
16. Andy Dalton, Bengals - Dalton surprised everyone with his stellar play as a rookie, and while some of it had to do with A.J. Green, he earned himself this ranking. What I like most about him is his competitiveness. He's been a winner his entire life and doesn't look like he'll be slowing down any time soon. And it doesn't hurt that he's deadly accurate.
15. Jay Cutler, Bears - Cutler is incredibly talented. He'll never be ranked that highly in lists like these, but he makes you nervous every time you play his team because he's as reckless at Brett Favre and has the arm of John Elway. I don't think it would surprise anyone if Cutler turned it on at the right time and took the Bears deep in the playoffs.
14. Matt Schaub, Texans - Everything was set up perfectly. The sherif was out of town. The Texans were playing out of their minds. There wasn't a dominant team in the NFL. Matt Schaub couldn't have dreamed up a better opportunity than the one he had last year. And then he got hurt. Hopefully he can bounce back this year on what should be another strong Texans squad.
13. Cam Newton, Panthers - If this seems high, just remember that he threw for 4,000 yards 21 touchdowns and ran for 700 yards and 14 touchdowns AS A ROOKIE. This guy is going to change the NFL, and could be in the top five of this list after next season. He just has to learn how win, which shouldn't be too hard because he has great intangibles and has won a championship on every other level.
12. Tony Romo, Cowboys - I'm just so over Romo. I get that he's very good. He's accurate, can make all the throws, and is a big time gamer. But this year is really put up or shut up time for the Cowboys, and while I can definitely see it happening, I can also see them falling flat on their faces. Again.
11. Michael Vick, Eagles - It was tough between Vick and the guy in front of him, but I just can't put this guy as high as his talent indicates until he stays healthy and takes care of the football. Vick and the Eagles offense can score from anywhere at any time, but they have to play smarter if they want to put it all together. Hopefully that's what they do in year two of the Dream Team, because the Giants and Cowboys are obviously still tough and the Skins are on the upswing.
10. Phillip Rivers, Chargers - Rivers was incredibly terrible last year, but I think like Vick in Philly it was more of a team implosion than a representation of the quarterback. Rivers still throws the best deep ball in the game, and is still that fiery competitor that many NFL analysts picked to lead the Chargers to the Super Bowl last season. He better clean up his act this year, though, because there's a new sherif in the AFC West.
9. Matt Ryan, Falcons - Maybe Andy Dalton shouldn't be too pumped about his great rookie year, because all it does is crank up expectations like it did for Matt Ryan. For all the people waiting for Ryan to actually win some big games, remember that he's only 26. That's scary.
8. Matthew Stafford, Lions - This is pretty bold after only one year, but Stafford finally showed us last year why he was one of the most hyped quarterbacks to come along in some time. He has an absolute cannon, and he plays the game fearlessly. Having the best receiver in the game definitely helps, but this guy has an enormous ceiling. I'm looking forward to a long Packers-Lions rivalry.
7. Joe Flacco, Ravens - I'm sure many people will disagree with this because Flacco is perhaps the least sexy quarterback we've ever seen, but consider these points. 1) He plays in a vertical offense that focuses on the running game which will never pump up his stats, 2) He consistently wins games as the Ravens defense continues to decline and 3) He's the most underrated clutch performer in the NFL. For all intents and purposes, Joe Flacco beat the Patriots with a perfect back shoulder throw with 20 seconds left in the fourth quarter of the AFC Championship. It's not his fault that Lee Evans dropped that ball, or that Sterling Moore made the play of his career. Flacco should have won that game. He should've beaten Brady toe to toe. He didn't, and that's why he's number 7, but it's also why he shouldn't be number 13, you know?
6. Ben Roethelisberger, Steelers - Ben's one of those guys that you want to rank people over until you remember his resume. He's got two Super Bowls (even though everyone has forgotten he played horribly in the first one), is as clutch as it gets, and is as accurate a quarterback you'll find when a play breaks down. With a great head coach and defense, he'll have plenty of chances to get that third ring and cement his legacy as the greatest Steelers signal caller ever.
5. Eli Manning, Giants - Good for you Eli. You're the dumbest looking player in the league, you play in the most pressure packed city in the world of sports, and you have to live up to the legacy of your last name, carried on by your older brother who's one of the best players to ever play. Yet you keep proving everyone wrong when they least expect it. I still can't put him over the sherif, but while he'll never be as talented as his older brother he's definitely more clutch.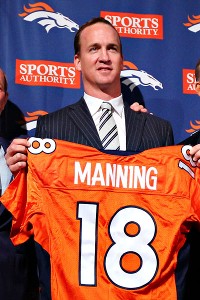 4. Peyton Manning, Broncos - This is quite the ranking for someone who missed all of last season and who many analysts predicted would retire this offseason. However, all signs currently point to Manning being 100% for opening day, and a 100% Peyton Manning deserves this spot. He's the best regular season quarterback of all time, and single-handedly changed the game with the way he broke down defenses. He just needs that second ring to go down as the greatest.
3. Drew Brees, Saints - Seriously, what the hell are the Saints thinking? This has been a nightmare of an offseason for New Orleans, yet they can't find a way to sign the person that means more to their franchise than any player they've ever had. And he's coming of his best season and shows no signs of slowing down.
2. Aaron Rodgers, Packers - I absolutely love the way that Aaron Rodgers plays quarterback. He's a baller. He knifes the ball from all sorts of angles and makes plays that only he can. It's like he's Brett Favre except precise and calculated. I really feel like everything went wrong at the wrong time in the 49ers, and fully expect the Pack to make another strong title run this year.
1. Tom Brady, Patriots - He lost another Super Bowl, but his body of work combined with his recent play demand this ranking. He's 34 and turning 35 in August, so the door is slowly closing on the Brady-Belichick regime. He's probably got two more shots at the title before he's on the downswing of his career, and one more championship could make him the best ever. It'll be fun watching it all unfold.