With another terrible All-Star weekend in the books (Jeremy Evans? Really?), it's time to start seriously looking at who will be making a run at the post-season down the stretch.
In the Eastern Conference, the elite eight have pretty much come into focus barring a magical run from Kyrie Irving (who is going to be a stud, by the way) or the Milwaukee Bucks, which seems almost impossible unless Danny Ainge decides to blow up the Celtics. However, playoff spots 3-8 could fall in any order with the unpredictable Knicks, the exciting 76ers, and the Dwight Howard-led (or not?) Magic all in the mix. The Western Conference is more wide open than ever, and the race for seeding, combined with this intense condensed schedule, should make for some of the most interesting pre-playoff basketball we've seen in some time.
Eastern Conference - First Round
1. Miami Heat v.s. 8. Boston Celtics - The aging Celtics are in the worst spot in the NBA, and that's the middle of the pack. The best move for the franchise might be to blow things up and trade some of their key pieces to contenders for either young players or draft picks. Ray Allen's contract is expiring and I'm sure just about every team at the top would love to rent him out for the rest of year. But all signs point to Danny Ainge keeping the squad together and making one more run, and if that's the case I see them landing the eight spot and a juicy matchup in Miami. Paul Pierce has owned LeBron in the past and Kevin Garnett exposed Chris Bosh's lack of experience last year, but the Heat were able to overcome the adversity last year and there's no reason they shouldn't be able to handle the Celts this year. A short series against the Heat would probably signal the end of an era in Boston.
Prediction - Heat in 5
2. Chicago Bulls v.s. 7. Atlanta Hawks - Like the Celtics, the Hawks are in NBA No-Man's-Land. Joe Johnson is just good enough to get you in the playoffs, Al Horford is good but doesn' t takes games over, and Josh Smith is the laziest and perhaps most frustrating player in the NBA (though Michael Beasley is doing his best to close the gap). They do seem to have a nice young point guard in Jeff Teague, but until some changes are made (and I think finally giving up and trading Josh Smith might have to be one of them) this team will routinely find itself in the bottom half of the Eastern Conference. And a matchup against the lock-down Bulls won't bode well for Atlanta.
Prediction - Chicago in 5
3. Orlando Magic v.s. 6. Indiana Pacers - It seems as if Dwight Howard won't be traded this season, and I'm really not sure how I feel about it. I understand that if the Magic lose him without getting anything in return it will be devastating to the city, but look at what happened to the Cavs. If the Magic lose Howard, they'll be a guaranteed lottery team next year, and that, combined with the chance that Howard stays, might be better than what they've been offered by the teams he wants to play for. Andrew Bynum would be the ideal compensation, but apparently Howard doesn't want to play for the Lakers, and we know that the Clippers won't trade Blake Griffin, so I don't really see an offer the Magic can't refuse (Please, don't be the "Brook Lopez is an emerging young star" guy). So I'm fine with putting the ball in Howard's court, having him risk becoming the next LeBron, and tanking next season if he leaves, allowing them to bring in a top 3 pick (Austin Rivers?) and go from there. But as for the rest of this season, with Howard staying I think they'll climb into that wide open third spot because they play elite defense, are extremely well coached, and Howard is the biggest game-changer in the league. The Pacers are a feel good story, but I think they'll start to slip (they're currently in 3rd) down the stretch and don't think they could match the Magic in the postseason. Roy Hibbert is a good young center, Danny Granger is a borderline All-Star, Darren Collison is a legit starting point guard, and Paul George has had a breakout season, but this team needs a face to it's franchise (Eric Gordon, anyone?) before it can compete against top notch teams.
Prediction - Orlando in 6
4. Philadelphia 76ers v.s. 5. New York Knicks - I think that Jeremy Lin is a very legitimate NBA starting point guard, but I also think the whole Linsanity thing will calm down as the season moves forward. The Knicks are still Carmelo's team, they just now have a point guard. This would be a very interesting postseason matchup and to me it would all come down to Amar'e Stoudamire. We know what Carmelo will do, we know what Lin will do, and we know what Tyson Chandler will do. What we don't know is whether Amar'e will continue to look as washed up as Kevin Garnett. He will have plenty of time to gel with this new-look Knicks squad over the remainder of the season, and if he can even get close to the level he was at last year New York will have too much for Philadelphia. I think he'll be somewhere in the middle, showing flashes at times but still not completely comfortable with being the third wheel, kind of like Chris Bosh. That should be enough to get by the young and exciting 76ers, though not by much. Andre Iguodala could give Melo fits, but I feel like this team is sort of like Indiana. They're one piece away.
Prediction - New York in 7
Western Conference - First Round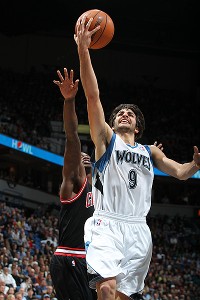 1. Oklahoma City Thunder v.s. 8. Minnesota Timberwolves - I just couldn't help myself. The T-Wolves are my favorite team to watch since, maybe ever. Ricky Rubio's jump shot may need improvement, but he's a surprisingly crafty defender (1st in the league in steals and charges taken), and he's got that elite passing gene that only comes around every once in a generation (Magic, Bird, and maybe Steve Nash are the only people I've ever seen pass like him). That type of player does wonders for a team, because the unselfishness spreads and the team chemistry skyrockets. They're legitimately in the playoff race at 17-17, have a legitimate star player in Kevin Love, have a bunch of nice young pieces (Rubio, Derrick Williams, Nikola Pekovic, sometimes Beasley), and might make a move at the trade deadline to upgrade at the 2 or 3 positions (if only they hadn't whiffed on the Wesley Johnson pick). So while at gunpoint I might go with the Denver Nuggets or Houston Rockets to win this spot, it's not at all ridiculous to put the T-Wolves here, and it gave me a chance to gush about Rubio (By the way, this needs to be the last year that Rubio isn't in the all star game. He'd actually make it worth watching). Regardless, the eight seed will get run over by the Thunder.
Prediction - Oklahoma City in 4
2. San Antonio Spurs v.s. 7. Portland Trail Blazers - Can you imagine this Trail Blazers team with a healthy Greg Oden? Put an elite defender next to LaMarcus Aldridge in the post, and you're talking about a possible title contender. Instead, Oden is the unluckiest player in the league and might never play again, and the Blazers are left one piece away from making serious noise. They aren't to be taken lightly, however, as they do have nice young players in Raymond Felton (though he's struggled recently) and Gerald Wallace. That still won't be enough to get by the Spurs, though.
Prediction - San Antonio in 5
3. L.A. Clippers v.s. 6. Memphis Grizzlies - The Grizzlies are a terrifying matchup for any top team in the West. They're incredible defensively, and are struggling a bit offensively but that should change once Zach Randolph gets healthy. Memphis has the ability to shut down the new-look Clips with elite perimeter defenders Mike Conley and Tony Allen, and could take advantage of L.A.'s lack of depth and experience. That said, I'll give the very slight edge to the Clippers here because of one reason, and that's CP3. I wrote back in mid-January that I thought Chris Paul was the most clutch player in the NBA, and he's been proving me correct since then, consistently dominating 4th quarters. He came to L.A. to compete for a title and remind everyone what he could do, and I just don't see him going down in the first round. It's also worth noting that Blake Griffin's post game is improving almost every night.
Prediction - L.A. in 7
4. Dallas Mavericks v.s. 5. L.A. Lakers - What Dallas has done this year has been nothing short of remarkable. They seemingly gave up on the idea of repeating by letting go of J.J. Barea and Tyson Chandler, opting instead to clear cap space for Dwight Howard or Deron Williams, or possibly both. Yet despite all the turnover they're starting to find their stride and are in the hunt for another title. Mark Cuban's pretty damn annoying, but I have to tip my hat to him for his work with the roster this year, and Rick Carlisle deserves some Coach of the Year votes. That said, those two pieces they let go were a huge part of their success of the Lakers, and while Dirk is still perhaps the toughest matchup in the NBA, I don't see him best Kobe and Co. this time around. Dallas is still tremendous defensively, and Shawn Marion could guard Kobe for stretches, but they'd miss Tyson Chandler against Pau Gasol and Andrew Bynum, and they don't have the speed off the edges that they had last year.
Prediction - L.A. in 6
Eastern Conference Semifinals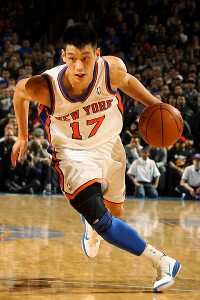 1. Miami Heat v.s. 5. New York Knicks - Carmelo would want this one very badly. Nothing would make him happier than ruining LeBron's parade, but I just don't think the Knicks have enough defensively to stop the Heat, and offensively they'd have to make incredible strides between now and April to have any chance against the Heat's D. Jeremy Lin was shown up by both Mario Chalmers and Norris Cole in their recent matchup, and Carmelo would see a heavy dose of James and Wade. Until I see that this team has any idea of how to play together, I can't give them much of a chance against Miami.
Prediction - Miami in 5
2. Chicago Bulls v.s. 3. Orlando Magic - Newly acquired Rip Hamilton has been injured and hasn't added much when healthy, but this is a series where I could see him making an impact. With Dwight Howard controlling the rim, Rose might need Rip to hit some big shots down the stretch, but even with Rose carrying the team I don't see the Magic giving the Bulls too many problems. The Magic rely on their three-point shooting coming off D12 double teams, but the Bulls wouldn't have to double Dwight as much with their elite front court defense, which could collapse Orlando's entire attack.
Prediction - Chicago in 6
Western Conference Semifinals
1. Oklahoma City Thunder v.s. 5. L.A. Lakers - This would be a pretty interesting matchup. The Lakers wouldn't be able to matchup the exposition off the edges that the Thunder bring, but the Lakers could also pose Oklahoma City problems down the stretch. The Thunder are at their best when they play small, and their best crunch time lineup is usually Westbrook, Harden, Durant, Ibaka, and either Thabo Sefolosha or Daequan Cook. They struggle when they play Perkins down the stretch because with him an Ibaka both on the floor the opposing defense only has to worry about three guys. But the Thunder wouldn't be able to play small against the Lakers with Pau Gasol and Andrew Bynum, and things could get dangerous for Oklahoma City if Durant, Harden, and Westbrook just become jump shooters. That said, the Lakers team as it's currently configured just doesn't have the depth or the speed to keep up with the Thunder, but a trade could tip the scale in the Lakers favor (O.J. Mayo? Michael Beasley?).
Prediction - Oklahoma City in 6
2. San Antonio Spurs v.s. 3. L.A. Clippers - This would be a terrific series, just like it was a terrific matchup just last week. The Spurs barely edged the Clips in OT, and probably should have lost if not for an inexplainable Chris Paul turnover. But that game was played with no Manu Ginobli, and he's the guy I think would ultimately make this difference in this series. Both of these teams have weaknesses that the other would exploit, but San Antonio just has more depth and experience than L.A. does. I'm one of Chris Paul's biggest fans, but I think his team comes up just short here. I do think Blake Griffin and DeAndre Jordan could get the best of Tim Duncan and Co., but again I think the depth of San Antonio and the Parker-Ginobli combo will be just a little too much for the young Clips.
Prediction - San Antonio in 7
Eastern Conference Finals
1. Miami Heat v.s. 2. Chicago Bulls - This is the one that everybody is waiting for. These are the two best teams in the East and it's not close. However, I don't know how I or anybody could go against the Heat in this series. I love the way that Chicago plays. I love their defense. I love Derrick Rose. But they just rely so heavily on him that I think it's hard to make a case that he'll beat a team that has two guys on his level. The only Bulls argument that I like is the crunch time argument, but I think the chemistry between LeBron and Wade is even better than last year (when they beat Chicago anyway) and getting better by the day. D-Rose and the Bulls will give the Heat everything they have, which is suffocating defense and grind-it-out offense, but I think they'll come up just short once again. If they do somehow beat this Miami team, it'll require an MJ-like performance for Chicago's new star. It isn't impossible, but it's also not likely, especially with two of the five best players in the world in Miami.
Prediction - Miami in 6
Western Conference Finals
1. Oklahoma City Thunder v.s. 2. San Antonio Spurs - I feel pretty uncreative having the top two seeds in both Finals' series, but I guess it makes sense. This is how I've predicted the teams to end the season in the standings, so these are the teams that I feel are the best, though in the Western Conference I really think matchup will matter more than anything else. I keep going back and forth with this matchup. On the one hand, San Antonio's got the age and experience, but on the other hand, San Antonio's got the age and experience. You know what I mean? Oklahoma City's explosive offense would pose huge problems for the Spurs' sometimes slow- footed defense, but Tony Parker and Ginobli are also fully capable of torching the Thunder. Greg Popovich also has some youngsters playing great this year (DeJuan Blair, Danny Green, Kawhi Leonard, Gary Neal, Tiago Splitter), and that could help even the energy level. But at the end of the day, I just think Westbrook and Durant would be too much for the Spurs' defense, especially since I have the Spurs battling through a seven game series in the Semi's. Westbrook and Durant will play every minute if they have to come June, and just like Miami, I expect the Batman-Robin crunch time thing to be less of a big deal than most people are expecting. Not to mention James Harden is an extremely legitimate third scoring option.
Prediction - Oklahoma City in 7
1. Miami Heat v.s. 1. Oklahoma City Thunder - Again, I don't feel very creative picking the matchup that almost every analyst has predicted, but I honestly believe that these are the two best teams. These teams don't really play the type of basketball that I like, but they can just run people over on any given night. Because of the similarities between the two, the star power on both sides, and all the anti-LeBron and pro-Durant sentiments in the basketball world right now, I think this would be the best Finals series I've seen in my lifetime. These teams are so similar that it wouldn't really come down to match ups and coaching as much as it would individual performance in the highest of pressure situations, which is really all you can ask for as a fan. However, the obvious difference between the two to me is defense. Miami plays extraordinary defense second to no team besides arguably Chicago, and Oklahoma City still has plenty of room for improvement on that end of the floor. Because of this gap in defense, and equality in offense, Miami should win this series. But this is where that pesky, overused, but still valid "LeBron can't get it done in the clutch" argument comes into play. Everything is set in place for LeBron to get his first ring, but can he actually step up and make the plays to get it done? As unfair as it sounds, that's what will decide the NBA championship. This is a very tough one, especially since Kevin Durant seems to have a knack for dramatic shot making, but I'm going to give LeBron another chance. The Heat made it to the Finals last year, and should have won were it not for LeBron's performance, and that was without Shane Battier, a healthy Udonis Haslem, or Norris Cole. They're the best team. I can't pick against them just on a hunch that LeBron will collapse again. I won't succumb to the Skip Bayless way of thinking. LeBron needs to win, and this will perhaps be his best shot at it, because the Thunder and Bulls will only get better, and the Clippers are in my opinion one piece away from being the best team in the league. I just can't imagine that LeBron, and D-Wade and Bosh for that matter, will let another golden opportunity slip away.
Prediction - Miami in 6
Recap - This is an extremely exciting time for the NBA, as there are perhaps more young superstars emerging than at any time in the history of the game. We've got the loaded Heat, the future of the league in Derrick Rose and Kevin Durant, and exciting young franchises in L.A. and New York (the Heat better pray that Deron Williams and D12 don't end up in Brooklyn together). We've also got several young teams that are one piece away from being legitimate title contenders mixed with several older teams vying for one more chance at glory. I, like almost every analyst out there, have picked the improved Heat to win the title, putting more pressure on them to get it done than any team in recent memory. One thing's for certain, and that's that it's going to be a blast watching it all play out.
P.S. - Go Rubio.